Travertine Tiles in Sydney
Travertine is from a true category of natural stones. The word 'travertine' is derived from the Italian travertine, itself a derivation of the Latin Tiburtina 'of Tibur'. Its namesake is also the origin of Tivoli, a district near Rome. Some of the world's famous historical architectural designs have been made from the Travertine tiles, like; The Getty in Los Angeles, the Coliseum in Rome, the Basilique Du Sacre Coeur in Paris, the lobby walls of the modernist Willis Tower (1970) (formerly Sears Tower) in Chicago.
In modern eras, Travertine is applied both in internal and external architectural designs. It is widely used in outside alfresco, house facade, outside pool, patio, the decorative area of roads and parks. For inside Travertine is applied to bathroom tiles, wall cladding, and flooring, floor tiles and laundry tiles, bathtub decoration and other interior decorations.
The properties of travertine for the internal applications
Travertine is an amazing natural stone (a form of natural limestone) and it complements most home styles and decor. It's a more affordable option over Marble and Granite stone, yet maintains its own luxurious and exclusive appeal. It comes in an array of colours from soft grey and beige tones to reddish brown and even gold. Besides its appearance, travertine is incredibly durable (like that of limestone) and is environmentally friendly, which adds great value to home.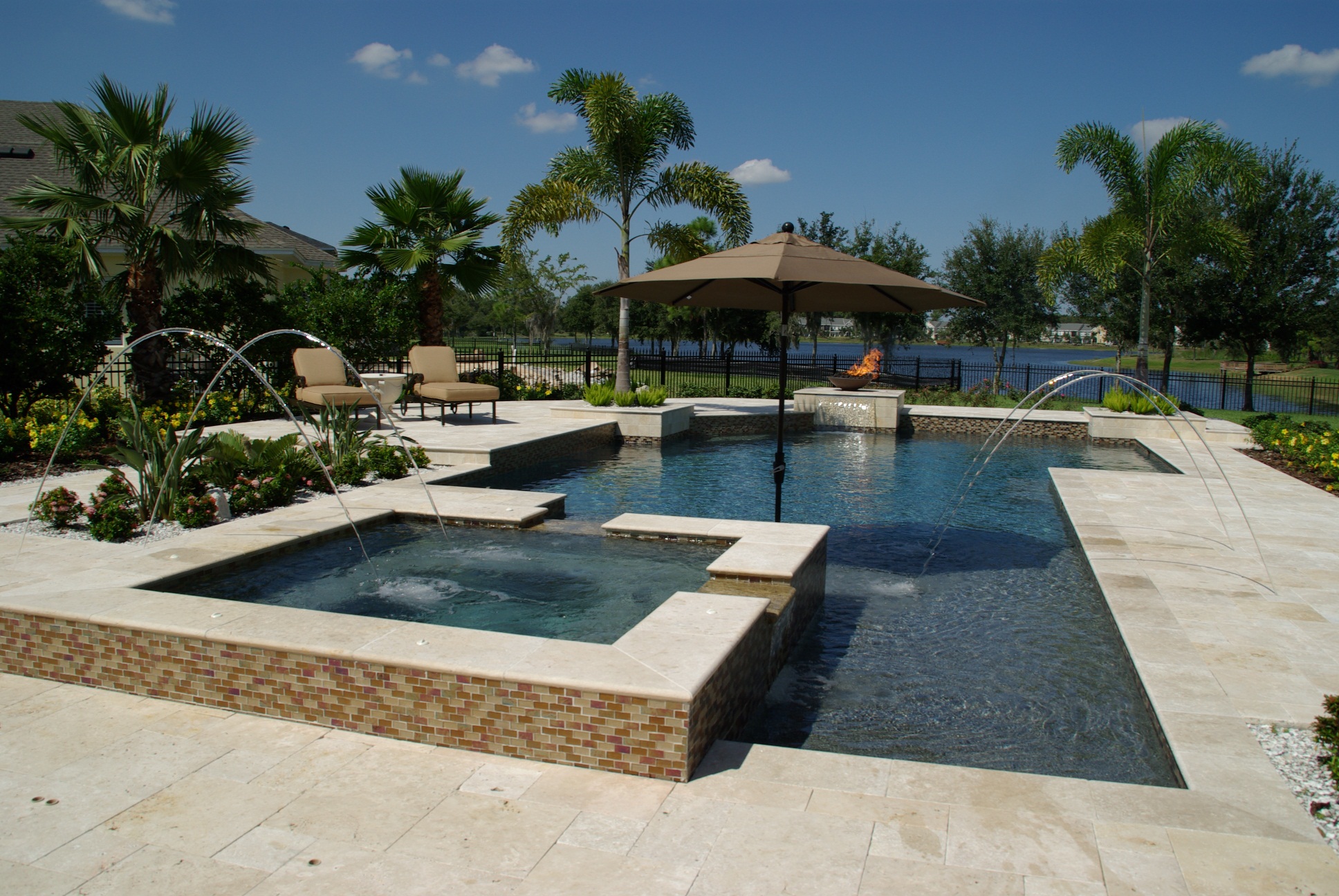 The properties of travertine for the external applications
Travaretine tiles can restrain the power of stay cool even under the strong sun. This feature makes it completely suitable for outdoor and wet expanses. It is extensively used in outdoor pools, uncovered patios, parks decoration, road decorations. Some certain category of travertines can be used for external and internal uses, and offers a French-inspired look, like; Platinum Travertine features unfilled and tumbled edges.
What kind of Travertine are available in Australia?
Travertine in Australia generally comes in a few finishes:
Honed
– the surface of the stone has been ground to a smooth, flat, consistent surface. For stones with a natural shine such as granite or marble, the polish or shine is removed leaving a matte (unpolished) surface with little to no reflection and no bumps or ridges.
Honed and filled – this finish has had imperfections and pockets filled, with the honed finished performed over the top.
Honed and unfilled
– imperfections and pockets have been left unfilled, giving it a more rustic feel to the product particularly in outdoor applications.
Brushed
– this finish is all about creating an antique, rough look. To do so, hard plastic or metal brushes are applied to the stone surface.
Acid washing
– Another antiquing method is to go through an acid washing process. Depending on what kind of depth you'd like to achieve, acid washing finish can range from a superficial cleaning of the stone right through to a more defined ruggedness.
Polished
– to create a mirror-like finish, the natural and hard surface of the stone is ground to a smooth flat surface to create a high gloss sheen.
Tumbled and unfilled
– the stone in its natural state, which offers an antiqued look and can be used to beautify outdoor areas, such as patio areas, garden pathways, decorative exterior walls and decking around your swimming pool.
Delivery Areas for Travertine tiles in NSW
Travertine Tiles Sydney delivers to a wide range of areas in Sydney, NSW. Some of which are listed below:
All Sydney metro, Newcastle, Central Coast, Wollongong, Maitland, Tweed Heads, Wagga Wagga, Albury – Wodonga, Port Macquarie, Coffs Harbour, Tamworth, Canberra – Queanbey, Orange, Dubbo, Bathurst, Blue Mountains, Nowra – Bomaderry, Lismore, Goulburn, Cessnock, Armidale, Bowral – Mittagong, Forster – Tuncurry, Broken Hill, Taree, Griffith, Morisset – Cooranbong, Grafton, Ballina, Singleton, Raymond Terrace, Kurri Kurri, Kiama, Ulladulla, Batemans Bay, Lithgow, Nelson Bay, Muswellbrook, Kempsey.